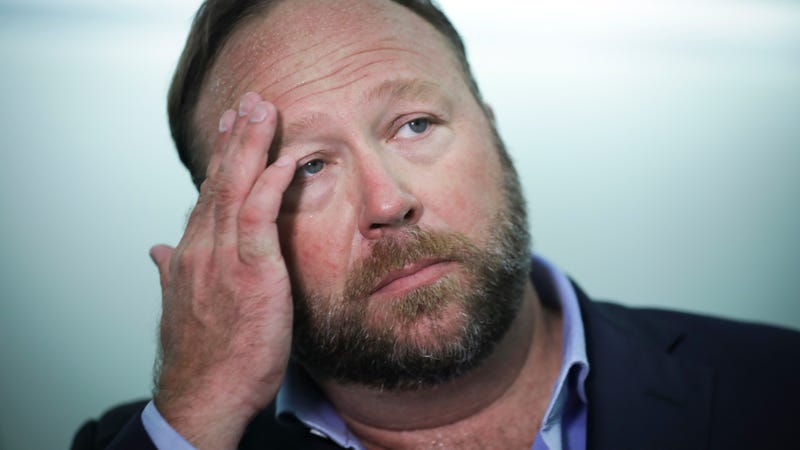 Facebook is cracking down on far-right figures and groups.
On Thursday, the social network barred Alex Jones, the conspiracy theorist who hosts InfoWars, as well as far-right commentators Milo Yiannopoulos and Laura Loomer. The ban, which included several far-right groups, extends to the social network's Instagram photo-sharing service.
Facebook said the banned people and groups had violated its rules against dangerous individuals and organizations. The social network also banned Louis Farrakhan, the leader of the Nation of Islam, and several other controversial figures.
The move highlights Facebook's tougher stance against hate speech as it faces criticism from activists, lawmakers and the public. Conservatives have accused the social network of suppressing their speech, an accusation Facebook has denied.
"We've always banned individuals or organizations that promote or engage in violence and hate, regardless of ideology," a Facebook spokesperson said in a statement. "The process for evaluating potential violators is extensive and it is what led us to our decision to remove these accounts today."
Facebook said it considers various factors in determining who is a "dangerous individual," including whether the person has called for or committed acts of violence against people of certain races, ethnicities or national origins. The social network also looks at whether the person is a "self-described or identified follower of a hateful ideology."
In part, Facebook banned Jones for hosting far-right commentator Gavin McInnes, who the social network had previously designated as a hate figure. Yiannopoulos praised McInnes and British far-right activist Tommy Robinson, who Facebook had also banned. Loomer praised and supported far-right political commentator Faith Goldy.
Facebook said it will remove pages, groups and accounts set up to represent the banned people. Facebook events will also be pulled down if a banned individual is participating. On Thursday, several pages that represented Jones, Yiannopoulos and other figures who Facebook banned were still up.
The social network has been under mounting pressure from civil rights groups to crack down on hate speech, particularly in the wake of the New Zealand mosque shootings. In March, Facebook said it was banning white nationalist and white separatist content from the platform.
Loomer, Farrakhan and Jones didn't immediately respond to a request for comment. Yiannopoulos couldn't immediately be reached.